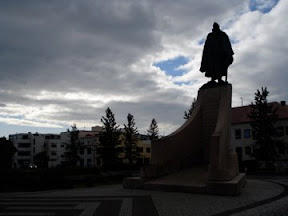 Brauðið hennar Sigrúnar
My normal dietary elements such as fruits and vegetables, are the most expensive foods to buy in Iceland. Dammit. To conserve change, my diet has shifted towards smoked fish, bread, cheese, and milk. The cheapest, simplest foods to buy. I'm feeling rocks and knives in my gastrointestinal system. Oh.
The results are either quarts of sauce, or bright red bricks. I'm charming to live with when I leave the restroom smelling of death.