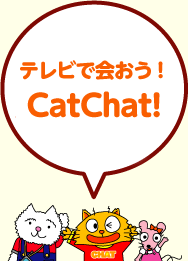 初めに、日本にいる!私は東京の会社で働いている。インターンシップと言う。.まだ私には、日本語は超難しいよ。でも
、
上手になりたいから毎日日本語で書いていこうと思う。
To start with, I'm in Japan. I'm working at a company in Tokyo. More like, an "internship" For me, the Japanese language is still super difficult. But, I'd like to get better, so I'll write in Japanese everyday.
「CatChatは、TBSのスペシャルプロジェクトです。二人は約2ヶ月間、TBS i-campでアニメーションの制作をします。アメリカの南カリフォルニア大学から、TBSテレビにインターン生が来たよ!」
初日は、カフェテリアに行ってみた。ベジタリアンだから、ちょっと難しかった。日本料理を食べてみったけど、納豆は不味かった。
On my first day, I tried out the company cafeteria. Being a vegetarian, one can image how eating at a Japanese cafeteria would be challenging. Nevertheless, I took a stab at Japanese cuisine by trying natto for the first time. My initial reaction-- pretty nasty.